"If an African dies here, it is normal. No one cares". 24 years-old Nigerian migrant
"A male officer stripped me off to check out if I hide cellphone in my private parts". Pregnant woman
I heard several horrific stories from Ethiopians and Eritreans who had stayed in Libya as a transit before they moved to Europe but I never expected these level of xenophobic and racist abuses fellow Africans including children and women just because they happen to have a bit higher melanin than the local Libyans. A report which was released today by
Amnesty International
shows these defenseless and helpless people are being abused, degraded, beaten, raped and killed by local self-proclaimed militias who claim to protect Libyan women from rape and their country from witchcraft. Oh no, how would a 15 years old girl
rape a Libyan woman or decimate a holy-land with superstition? Thousands of these dark-skinned migrants being held in a poorly insulated cold hangers and allowed to see sunlight and breath fresh air only is through the metal bars on the doors. Migrants and refugees held at the center near Gharyan, some 80km south of Tripoli were in desperate need of clothes, blankets and mattresses. The center, which is run by the 9th Brigade, a militia nominally under the Ministry of Defence, had no ambulance, functioning sewage system or clean drinking water. The officers do whatever they want to do to these migrants according to Amnesty International.
Many told us their shoes were confiscated by guards upon arrival and burnt to prevent them from escaping. Those who try to escape are beaten with metal bars and plastic tubes, and forced to roll over in dirty water while guards kick them with their boots.
Others said that guards would shoot at the ceiling inside the hangars to intimidate them, and in some cases, shot directly at them. Obiezi, a Nigerian migrant aged 24, showed us a bullet wound in his hip. He said with resignation, "If an African dies here, it is normal. No one cares".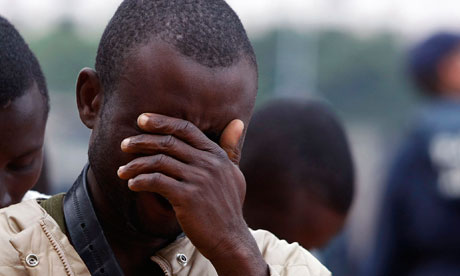 Amnesty disclosed in its report that Non-Muslims at the center appeared particularly vulnerable to abuse. According an Eritrea Christian the guards attacked by guards and then threatened him at gunpoint when they saw him praying in his hangar. Christian migrants from Nigeria reported that guards throw stones at them whenever they see them pray.
Amnesty also identified about 20 unaccompanied children from Somalia and Eritrea –some as young as 12 years old – detained there alongside adult men.
Even pregnant women are not immune from such invasive and degrading abuses. A Nigerian woman who was pregnant at the time of abuse told Amnesty that a Libyan male officer stripped off all her clothes and put a plastic pipe in between her legs and started shaking it against her private part to check if she was hiding a cellphone.
Many routes to detention
Some of the migrants and refugees detained at more than 20 centers across Libya have been intercepted by the Libyan coastguard at sea as they attempted to cross the Mediterranean; others were arrested arbitrarily by various state-affiliated militias which formed during the 2011 armed conflict.
Some migrants and refugees said they were placed in detention by employers who refused to pay their wage at the end of a completed job.
Many told Amnesty that, in Libya, having valid documentation counts for little and does not prevent arbitrary arrests. Tigani, a Togolese migrant in Tripoli, said that police had burst into his house there over a year ago. When he showed them his passport containing a valid visa, they tore it to shreds and arrested him anyway.
Indefinite detention
Once behind bars, migrants found to be in Libya irregularly are never brought before a judge, and can wait for months before being deported. Those whose countries do not have consular missions in Libya, or refugees who cannot return home for real risk of persecution can be held indefinitely. With no alternative solutions, they are transferred from one immigration detention center to another across the country.
When Amnesty asked the commander of the 9th Brigade why he choose his job...surprise to such outright racist reply. He claimed he was not receiving a salary from the state. When we asked him, he replied – without hesitation – that it is his national duty and responsibility to protect Libyan women from crime and witchcraft – which sub-Saharan African migrants often get accused of.
Amnesty expressed its concern against this level of open xenophobia and lawlessness that they found most disturbing.
Amnesty feared foreign nationals especially migrants from Sub-Shara Africa will continue to be arbitrarily arrested, detained and abused in Libya as long as the authorities fail to take concrete action to end such practices. The watchdog urged Libyan authorities urged to fight xenophobia, put in place adequate protection measures and a coherent policy to protect the rights of migrants and refugees, and regularize their status.
Hmm, what is most saddening and disheartening is that the world including countries of where all these migrants come from are ignoring these despicable abuses. Where is AU? well, they are busy on shopping sprees in Europe, America and Asia or spending donor's money they stolen from the poor on luxury resort all over the world while their compatriots are being held indefinitely for no other reason than being black.