Natnael Feleke has been imprisoned for a year without trial. In a letter
smuggled out of jail, he asks the US secretary of state to stop supporting the regime
Dear John Kerry,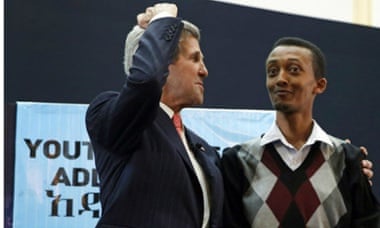 I first came to know about you back in 2004, during the US presidential election, when you were running for office against George Bush. At just 17 years old I knew little about US politics – or politics in general – but I discussed the campaigns with my schoolmates.
A year later, the historic 2005 Ethiopian national election took place. This election differed from previous votes in that the lead up to it was mostly democratic. This left many Ethiopians hoping they would witness the first elected change of government in the country's history. But it was not to be.
After the ruling Ethiopian People's Revolutionary Democratic Front realised they couldn't win the election without rigging the vote, the true face of the regime emerged.
After polling day, we saw civilian bloodshed, and the arrest of thousands – including journalists and opposition leaders.
I was only young then, but the election gave me my first