Killing of Eritrean refugee in Dresden exposes racial tensions in Germany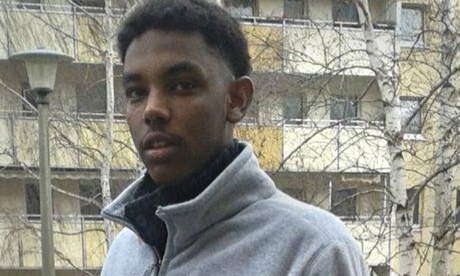 RIP, the late Khaled Idris Bahray 1995-2015
Anti-immigration sentiment highlighted after 25,000 rally in support of far-right Pegida movement on night of murder.
t was 8pm on Monday when Khaled Idris Bahray told his seven flatmates he was popping out to buy some cigarettes from the Netto supermarket about 100 metres away from his flat in a prefab high-rise in the south of Dresden.
The 20-year-old Eritrean said he wouldn't be long. But a few hours later he still hadn't returned. "We assumed he'd gone to stay with some other friends nearby," said his flatmate, Abdulrezak Suleman. "So we weren't really worried."
But around 7.40 the following morning, other residents in the six-storey building found his body slumped in the inner courtyard of the housing estate.
According to his flatmates, in reports that the police will not confirm, he was covered in blood, with at least one deep cut visible on his body. Rigor mortis had already set in. "He was lying on his back, and had blood coming out of his nose and mouth, with drops of blood leading towards the door as if he'd tried to get in, but not made it, and drops on the grass," said Abdulatif, 23, a fellow Eritrean who lives nearby but had spent that night in Bahray's flat.
Hmm not surprisingly, Police say No Foul Play!
The police had first said there seemed to be no suspicious circumstances surrounding the young Muslim's death, saying in their initial statement that on first appearance "there are no indications of foul play". But just hours later they confirmed the results of the postmortem showed that Bahray had been unlawfully killed in what appears to have been a vicious knife attack.
"We now have evidence to confirm that a stab from a knife was the cause of his injuries," said Dieter Kroll, president of Dresden police. "We can exclude the possibility that this was an accident. It is murder."
Dresden police have launched a murder investigation in the east German city that has been making headlines recently for its anti-immigrant rallies, which, on the night of Bahray's death, attracted a record number of 25,000 supporters. Tensions in the city have been high in the 12 weeks since the rallies began, with a reported increase in racist attacks.
I want to earn some money and send to Mom, Bahray