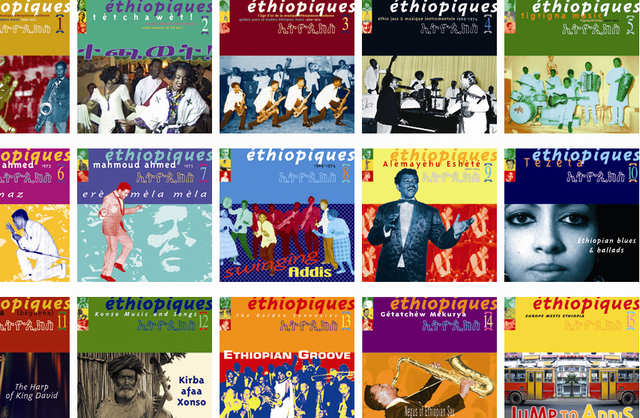 (Photo: Courtesy of Buda Musique)
Francis

Falceto

is a

French

musicologist

and music producer

, specializing in

world music

especially

of Ethiopian

music and he

has been working to put it on global music map since

1986. Falceto's love-affair with the Ethiopian music just happened by accident in April-May 1984 when one of his music enthusiast friends who had been to Ethiopia and brought an LP entitled
Ere

M

ela

M

ela by Mahmoud Ahmed. He and a group of his friends were organizing non-profit concerts out of boredom in small sleepy Western France village called Poitier. They used to listen music from other African countries, but E
re

M

ela

M

ela was an absolute shock to their ears because of the uniqueness of Mahmoud's sound, the arrangement and the brass. He made some cassettes out of it and sent it to journalists and music reviewers; it was an absolute shock to them as well. T
he next day, they all called him back, saying, "Francis, what's that? Where did you get this from? It's great!" So, he immediately understood that, if these people, who supposedly knowledgeable about music by profession, if they don't know this music, it must be a place to dig, to try to find out if it's an exception, or if it's one among many.
After having a few ''crush-course'' about Ethiopia, its culture, music and history by the owner of the only Ethiopian restaurant in Paris at that time

.

Falceto went naively to Ethiopia to ''bring'' Mahmoud Ahmed, Mulatu Astatqe

and

other generations of the Swinging

-Addis

for a music tour in France. He admitted, he failed not once but three times to accomplish his mission

due to
his ignorance about Ethiopia and the politics of Dergue.
In 1986 he had visited Addis Ababa twice and managed to escape the strict controls of the military government bringing with him both the singer Mahmoud Ahmed (for whom he had arranged an appearance at the Avignon Festival) and the tapes of Ahmed's great Ere Mela Mela album, soon to be released on Crammed Discs.
This was the first release outside of modern Ethiopian music which opened the doors for Ethiopian music. John Pareles of the
New York Times
praised
Ere Mela Mela as
one of the five or ten best world music albums of 1986. The reaction from North America to Europe to this CD was very positive and it energized Falceto's commitment to Ethiopian music.
After 10 years of tireless effort,
Falceto has single-handedly brought Ethiopian music to the limelight of world music consciousness
. In collaboration with Buda Musique recordings he released over 25 volumes of CD series of Ethiopian music under the title Etiopiques not to mention the concerts and tours he has organized, an annual festival in Addis Ababa, published the book "Abyssinie Swing", created a documentary film of the same name and brought Western musicians intrigued by the music to Ethiopia.
For being the originator and curator of the Ethiopiques series of cds and the music of Ethiopia's greatest champion, Falceto became
the recipient of the
WOMEX
(The world of Music Expo) 2011 Professional Excellence Award. Falceto's passion is not only restricted to Ethiopian music; he translated in to French -
Tiqusat
- an Amharic short-story by the Ethiopian version of Emil Zola a.k.a the late Sebhat Gebregzihabehr. One more surprise- Falceto smokes
Nyala
(the Ethiopian brand which is looked down by many Ethiopians) and travels with it around the world.
iREFUGEE met Francis Falceto last August while he was on tour with Mahmoud Ahmed, Alemayehu Eshete and EthioColor band for the annual Stockholm's cultural festival curated by Selam. Falceto shared his thoughts about the past and present contemporary Ethiopian music as well as his contribution to this arena. Merci beaucoup M. Falceto for being my guest and of course for creating a positive and different Ethiopian image other than the discourse associated with Band-aid. Find-out why Falceto is very critical of the post-Dergue Ethiopian musicians and considers the period as a missed-opportunity to produce a worth-listening music provided the availability of creativity-freedom and technologies during the last two-decades.

iREFUGEE: When and how did you begin to enjoy Ethiopian music?
FALCETO: Hmm, It is a long story. It was exactly in April-May 1984, the year I was exposed to Ethiopian music for the first time. It was Ere Mela Mela, the shekla (an Amharic equivalent to LP) by Mahmoud Ahmed. I used to listen to other African musics at that time, but the day I heard Ere Mela Mela, it was an absolute shock for my friends and I.
iREFUGEE:
Why? What was so special about that LP.
FALCETO
: The uniqueness of Mahmoud's sound, the arrangement and the brass were on top. Then, my friends and I made a cassette out of the LP and sent it to music journalists and reviewers who were also very amazed and wondered where did we get it. Then, my friends and I realized that Mahmoud's music was great but unknown. However, my friends I were totally ignorant about Ethiopian music, culture, history and Ethiopia itself. So, we decided to invite Mahmoud Ahmed, Mulatu Astaqe and others to France. My only informant about Ethiopia was the owner of the only Ethiopian restaurant in Paris at that time, 330kms from our village. So, I went to that restaurant several times for one-year and got my lesson about Ethiopia. I started my endeavor from scratch exactly a year after (April 1985) I was exposed to Ethiopian music. I went to Addis Abeba for one week in order to bring Mahmoud Ahmed, Mulatu Astaqe and others to France for music tour. I remember, I flew by a cheap Russian flagship called
Aeroflot,
stayed in Moscow for three days for transit and then in Turkey and from there to Aden-Yemen and to Addis. Of course, my mission was a failure because of my ignorance about the Dergue, (the Ethiopian military junta who deposed Ethiopia's last monarchy), Ethiopian bureaucracy, Ethiopian politics and its different history from the rest of Africa. I have been to Ethiopia 50 times since then. Making business deals in Ethiopia is different than with other African countries, because Ethiopians are very patriotic, not colonized and at the same time very secretive.
iREFUGEE: Hmm, Do you have a musical background?
FALCETO: NO! I have no university degree or PhD in the music-field but I love music and listen from everywhere in the world without being pretentious. I'm a special character, rebellious and against the system. My works speak for themselves. I was angry that nobody really cares about and gives attention to the golden-age of Ethiopian music. I wanted to share and spread how beautiful those musics are.
iREFUGEE:
Are you satisfied about what you did over the last 30-years?
FALCETO
: No! It never satisfied with what I have done so far; it [present contemporary Ethiopian music] should have been in a better position. There are no more
Ere Mela Melas
produced since I begun my involvement with the Ethiopian music. It is very difficult to work in Ethiopia for years and decades but things have started to get better since 2000.
iREFUGEE:
Have you seen changes after you introduced Ethiopian music 30-years ago to the world?
FALCETO
: Of course there are changes. Mahmoud and I couldn't leave Addis Abeba without having an exit-visa from the Dergue 30-years ago. Aster Aweke, Mahmoud Ahmed, Alemayehu Eshete and many others wouldn't have performed in Stockholm 30-years ago; now, they are performing everywhere globally. The success mainly goes to the artists and I am proud of my contribution in putting Ethiopian music on spotlight.
iREFUGEE:
How do you rate present contemporary Ethiopian music on 1-10 scale (1 the least and 10 the highest)?
FALCETO:
It is hard for me to rate Ethiopian contemporary music because each generation has its own unique music. There was a music scene before the Italian invasion, and there was this 20-years of the golden age of Ethiopian music called Swinging Addis. Ethiopian music was frozen during the Dergue's 1
7-
years' rule due to curfew it imposed on the nightlife where the music was supposed to developing. 25-years of the post-Dergue period is a lost generation which witnessed loss of money and energy. The problem is that most of the young Ethiopian artists focus mainly on money. I am not nostalgic of the Imperial period, the young generation don't have to copy music of the 70s; they have to be better than that generation. One of the reasons for this problem is that there are not enough music-critiques in Ethiopia who are too many in our countries. I don't see the post-Dergue music as historic as the Swinging-Addis. The newcomers such as Mealku Jorega (Saxophone), Dagmawi Ali (Base-guitar) and Melaku Belay of EthioColor give me hope. Talented Ethiopian arrangers and musicians such as
Abegaz Shiwota, Girum Mezmur and others who are the post-Dergue generations, should I say they did very little to produce an outstanding music for their generation considering their exposition to the technology and creative freedom. I don't think another Francis Falceto would come in 30-years and re-release the music of the Post-Dergue generation. Arrogance mixed with ignorance is the other characteristics of artists of the Post-Dergue generation. They don't have no long-term vision. They risk making cheaply produced music locally over international career. Nobody makes money out of the sales of CDs in Ethiopia including Teddy-Afro; they make money out of sponsorships. Paradoxically, artists of the Imperial period who were serving for an institution depending on monthly salary, produced a good music in Ethiopian history. During the golden era of Ethiopian music,
Enqutatash
( the Ethiopian New Year) was where Ethiopian artists from different Imperial institutions were competing to stage the best music.
iREFUGEE:
Do you see any future for the Ethiopian music?
FALCETO:
Yes I do but I want the present Ethiopian music to be as innovative and productive as it used to be during the Swinging-Addis period.
iREFUGEE:
Do you think you contribute something the Ethiopian music?
FALCETO:
Many of the the Post-Dergue generation Ethiopians and the diaspora rely for the information about the Swinging-Addis either on their parents or on
Ethiopiques,
since they don't have direct experience to that period. I'm proud of
Ethiopiques
as an achievement which is considered by many Ethiopians as a reference for the music scene of their parents' generation.